KENOGEN UOMO MELATONINA 30 fiale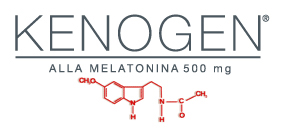 KENOGEN MAN 30 vials

MELATONIN 500 mg
INTENSIVE TREATMENT FOR
PHYSIOLOGICAL HAIR REGROWTH
AND THICKENING FOR MAN
30 single-dose vials 0,17 oz.
2 Applicator
100% secure payments
Secure Payments with ssl
Fast delivery shippings
Returns available
KENOGEN MAN 30 vials

MELATONIN 500 mg
Dermatological treatment with a high concetration of melatonin with a stimulating action in physiological hair regrowth.
The innovative formulation intervenes in the process of hair miniaturization thanks to its powerful regenerating, anti-androgenic action on piliferous follicles. Indicated in case of thinning, little growth and weak hair.

An intensive treatment with a high concentration of melatonin for natural and physiological hair growth. The special Men's formula of the KENOGEN®Melatonin 500 MG treatment is particularly effective in reducing the production of DHT and its deleterious effect on hair follicles, thanks to the Serenoa Repens extract, rich in phytosterols, and enhanced by Melatonin's action. Recommended for androgenetic alopecia, weak hair, and poor hair growth. Your hair will find a new metabolic balance and will become stronger and thicker every day.

Open a vial with the applicator and apply the lotion evenly, section by section, to clean scalp. Massage gently for a few minutes. Blow dry without rinsing. Apply the treatment every day for at least 2 consecutive months. On the days in which you do not wash your hair, apply the vial to dry scalp. In the event of chronically thinning hair, apply the treatment for 3 consecutive months.
No customer reviews for the moment.
Customers who bought this product also bought: